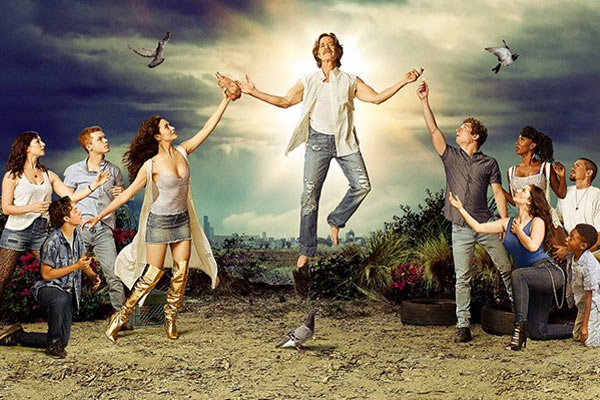 Anche gli attori di Shameless si sono uniti allo sciopero avviato dalla Screen Actors Guild-American Federation of Television and Radio Artists (SAG-AFTRA).
Jeremy Allen White ha protestato al fianco di Shanola Hampton (Veronica Fisher), Noel Fisher (Mickey Milkovich), Isidora Goreshter (Svetlana Yevgenivna), Steve Howey (Kevin Ball) e Zach McGowan (Jody Silverman) fuori dalla Warner Bros. di Burbank.
Prima di essere torturato dallo chef Carmen "Carmy" Berzatto nella commedia drammatica The Bear, Jeremy Allen White ha vestito i panni del secondogenito della famiglia Gallagher in Shameless, in onda per 11 stagioni tra il 2011 e il 2021. Nel cast, insieme a lui, anche Emmy Rossum, William H. Macy, Cameron Monaghan, Emma Kenney ed Ethan Cutkosky.
SAG-AFTRA, il sindacato che rappresenta gli artisti cinematografici e televisivi, si è unito alla Writers Guild of America (WGA) allo sciopero del 14 luglio, a seguito del mancato accordo con l'Alliance of Motion Pictures and Television Producers (AMPTP) per i nuovi contratti. Le due realtà non hanno trovato punti di accordo sugli stipendi, né sull'uso dell'Intelligenza Artificiale nel settore.
"Siamo vittime di un'entità molto avida", ha dichiarato il presidente del SAG-AFTRA Fran Drescher. "Sono scioccato dal modo in cui siamo stati trattati. Non posso crederci, francamente. Siamo distanti su moltissime cose: l'AMPTP parla di povertà, di perdite economiche, ma dà milioni di dollari ai suoi amministratori delegati. È disgustoso. Si trovano dalla parte sbagliata della storia in questo preciso momento".
Alla protesta, oltre al cast di Shameless, si sono unite anche le co-star di This Is Us, e i cast di The Boys, iCarly, Succession, Yellowjackets e Criminal Minds.
IL CAST DI SHAMELESS OGGI
Jeremy Allen White è passato dal successo di Shameless a quello di The Bear, ma i suoi colleghi?
Emmy Rossum (Fiona Gallagher) è diventata mamma e ha recitato quest'anno in The Crowded Room. William H. Macy (Frank Gallagher) ha preso parte a The Dropout e Ti presento i suoceri, l'ultimo film di Cameron Monaghan (Ian Gallagher) risale al 2022 (Shattered – L'inganno). Emma Kenney (Debbie Gallagher) ha recitato anche nelle serie Pappa e Ciccia e The Conners, Ethan Cutkosky (Carl Gallagher) è attualmente sul set di Going Places, Christian Isaiah (Liam Gallagher) ha recitato in City of Crime. Shanola Hampton (Veronica Fisher) ha da poco presentato Found, in arrivo il prossimo autunno, Steve Howey (Kevin Ball) è nel cast di True Lies, Noel Fisher (Mickey Milkovich) è stato tra i protagonisti di The Calling.