X FACTOR 2016, NEL QUINTO LIVE LE LITTLE MIX E DOPPIA ESIBIZIONE DEI RAGAZZI
Nuova puntata eliminatoria del talent di Sky Uno giovedì 24 novembre alle 21.10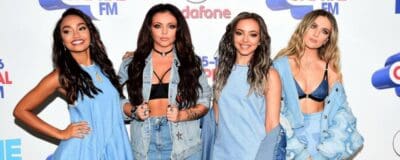 Cresce l'impegno richiesto ai concorrenti rimasti in gara a XFactor 2016 dopo l'eliminazione di Fem e l'autoesclusione dei Daiana Lou. Nella quinta puntata in onda giovedì 24 novembre alle 21.15 su Sky Uno HD, infatti, i ragazzi devono preparare due esibizioni a testa. Il programma condotto da Alessandro Cattelan si appresta inoltre a ospitare le Little Mix il gruppo pop più hot del momento.
I giudici Fedez, Arisa, Alvaro Soler, Manuel Agnelli hanno assegnato due brani a ciascun concorrente. La gara infatti prevede due manche: la prima a tema libero, la seconda a tema "Reload", ovvero pezzi moderni in chiave vintage o pezzi vintage rivisitati in chiave moderna.
Fedez per Caterina ha scelto Wake Me Up di Avicii per la prima manche e per quella "Reload" Burn di Ellie Goulding in versione Anni '60 Surf; per Roshelle invece Hide and Seek di Imogen Heap e Umbrella di Rihanna in una versione vintage alla Singin' in the Rain; infine per Gaia Vedrai vedrai di Luigi Tenco e Lean On di Major Lazer Feat. Mo nella versione anni '70 alla Stevie Wonder.
Manuel Agnelli ha optato per Hurt di Nine Inch Nails nella versione di Johnny Cash e Uptown Funk di Mark Ronson Feat. Bruno Mars per Andrea, mentre ad Eva ha affidato Across the Universe dei The Beatles e Is This Love di Bob Marley in una versione R'n'b.
Alvaro Soler per i Soul System ha selezionato Gravity di John Mayer e Midnight City degli M83 in versione Anni '80; Arisa ha voluto per Loomy Hey Boy Hey Girl dei The Chemical Brothers e Il piccolo corazziere di Renato Rascel in versione rap tipo Articolo 31.
Ospiti del quinto live show le Little Mix, il gruppo con oltre 12 milioni di copie vendute a livello globale e tre hit al #1 della classifica UK. Sul palco di X Factor propongono Shout Out To My Ex, primo estratto dal loro quarto album di inediti Glory Days uscito il 18 novembre.
Immancabile l'appuntamento dell'Extrafactor con Mara Maionchi e Daniela Collu in arte Stazzitta a cui è affidato il commento, insieme ai quattro giudici, dei momenti salienti della puntata appena conclusasi. A seguire arriva Strafactor, ovvero la ricerca del talento più "alternativo" della storia di X Factor. Accanto ai protagonisti Elio, Mara Maionchi e Stazzitta, che cercherà di tenere il ritmo della gara, in questa puntata troviamo Geppy Cucciari e Saverio Raimondo nelle vesti inedite di giudici.
da Libero.it