'LA LA LAND', MIGLIOR FILM AI CRITICS' CHOICE AWARDS
Il film di Chazelle conquista otto premi. 'Trono di spade' miglior serie drammatica, Natalie Portman miglior attrice per 'Jackie', Casey Affleck per 'Manchester by the sea'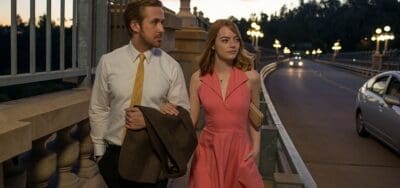 Il musical La La Land di Damien Chazelle fa incetta di premi ai Critics' Choice Awards: otto riconoscimenti tra cui miglior film e miglior regista al trentunenne autore americano. Il film, che ha fatto vincere la Coppa Volpi a Venezia alla sua protagonista Emma Stone e sarà nelle sale italiane il 26 gennaio, mescola danza, jazz, sogni, ambizione e una potente storia d'amore.
Lei è un'aspirante attrice che serve cappuccini alle star fra un'audizione e l'altra e lui (Ryan Gosling), appassionato musicista jazz, tira a campare in squallidi pianobar. L'incontro è un colpo di fulmine ma quando il successo arriva per entrambi, i due si trovano di fronte a decisioni che incrinano il fragile edificio della loro storia d'amore. Il film si è aggiudicato anche miglior canzone (City of stars, ne erano candidate ben due), miglior colonna sonora, miglior sceneggiatura originale, miglior fotografia, miglior montaggio, miglior scenografia.
Tra gli altri riconoscimenti assegnati dalla Broadcast Film Critics Association (BFCA), formata circa 250 critici americani, ci sono stati Trono di spade miglior serie drammatica, Natalie Portman miglior attrice per Jackie, Casey Affleck per Manchester by the sea, miglior attore non protagonista Mahershala Ali per Moonlight che si è aggiudicato anche il premio per il miglior cast complessivo e il miglior attore emergente Lucas Hedges, miglior attrice non protagonista Viola Davis per Fences. Doppio riconoscimento per il film bellico e pacifista di Mel Gibson: Hacksaw Ridge che ha vinto come miglior film d'azione e anche come miglior attore d'azione (Andrew Garfield), migliore attrice della stessa categoria è Margot Robbie per Suicide Squad. Miglior commedia è stata decretata Deadpool con Ryan Reynolds, miglior attore mentre la veterana Meryl Streep ha vinto come miglior attrice comica per Florence. Tra i premi tecnici lo sceneggiatore Eric Heisserer ha vinto per il miglior adattamento di Arrival (miglior film di fantascienza), costumi, trucco e parrucco sono andati a Jackie, i migliori effetti visivi a Il libro della giungla, mentre il miglior cartoon è Zootropolis. Il miglior film straniero è Elle di Paul Verhoeven con Isabelle Huppert.
Sul fronte tv oltre al Trono sono stati premiati: Sylicon Valley, l'imitatrice di Hillary Clinton Kate McKinnon del Saturday Night Live, Alec Baldwin per la sua imitazione di Trump al Saturday Night Live, Donald Glover per Atlanta, Jane Krakowski per Unbreakable Kimmy Schmidt, Louie Anderson per Baskets, BoJack Horseman (Netflix), The Voice (NBC), Shark Tank (ABC), Anthony Bourdain: Parts Unknown (CNN), The Late Late Show with James Corden (CBS). Ancora sul fronte piccolo schermo John Lithgow per la serie sulla regina Elisabetta The Crown, Thandie Newton per Westworld, Bob Odenkirk per Better Call Saul, Evan Rachel Wood per Westworld, Jeffrey Dean Morgan per The Walking Dead. Quattro riconoscimenti anche per The People v. O.J. Simpson, oltre al premio come miglior miniserie hanno vinto Courtney B. Vance, Sterling K. Brown e Sarah Paulson.
La Repubblica